₹29.54 Lakh**
Ex-Showroom Price In Delhi.
Mazda MX-5 RF, which stands for Retractable Fastback, the retractable hardtop version of the popular Japanese roadster.Mazda MX-5 had this silhouette was with the second generation coupe model, curiously called version Mazda Roadster Coupe, despite having a completely closed roof and was launched exclusively in Japan on 2003. Mazda MX 5 Buy Used Car in Delhi. Mazda MX5 Price in India.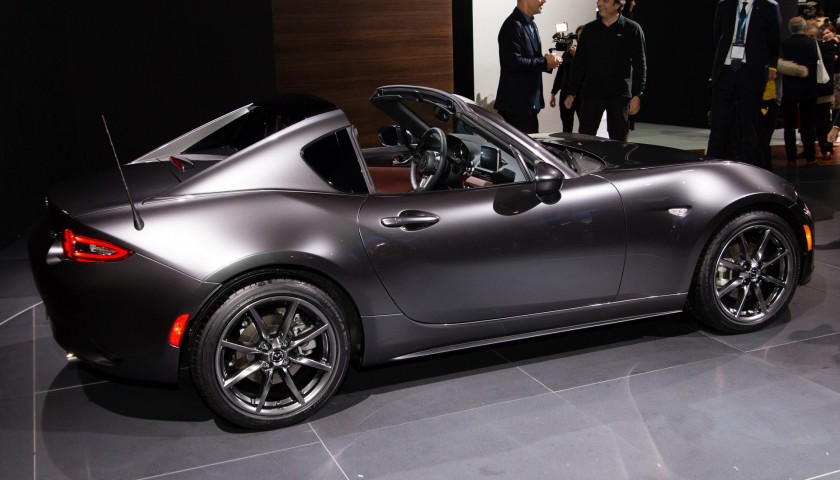 the conventional roadster version, 1.5 and 2.0 SKYACTIV-G of 4 – cylinder putting around 131hp and 160 hp respectively which can be associated with a manual or automatic transmission. A new engine that will incorporate a new six-speed automatic transmission will only be available in India. Mazda MX5 Price in India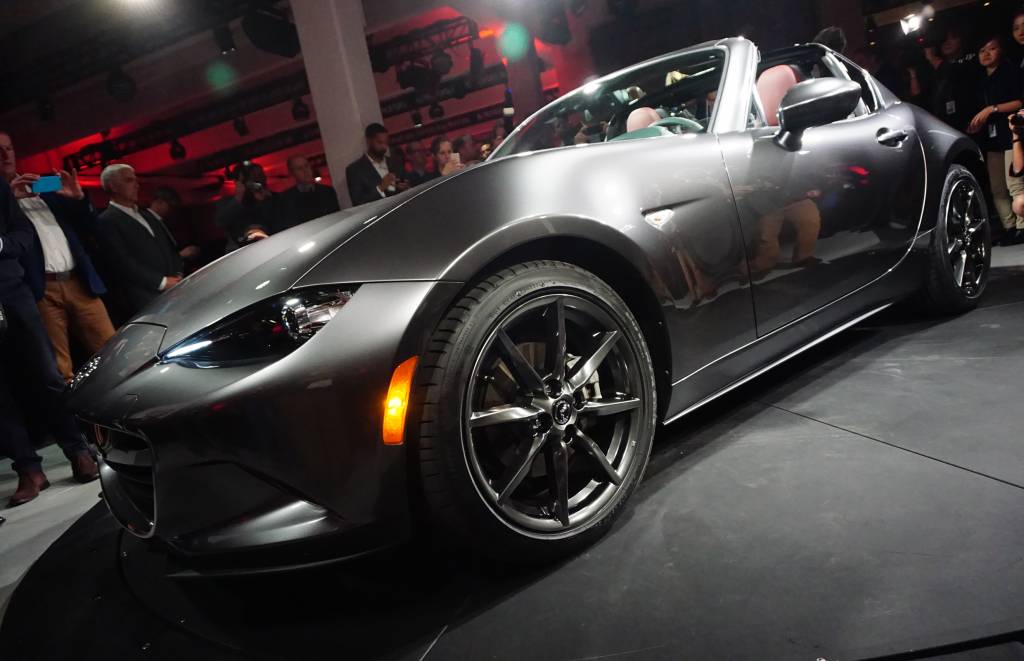 The release date is still not announced, however, the firm has confirmed that it will be early 2017.the Japanese factory has been preceded by 1,000 units of the MX 5 RF Launch Edition, which were made exclusively for the US market. Mazda MX5 Price in India. Mazda MX-5 rf
INTERIOR
Front head room
37 "
Front shoulder room
52 "
Front hip room
52 "
Front leg room
43.1 "
Luggage capacity
4.5 Cu.Ft.
Maximum cargo capacity
4.5 Cu.Ft.
Standard seating
2
EXTERIOR
Length
154.1 "
Body width
68.3 "
Body height
49.0 "
Wheelbase
90.9 "
Ground clearance
5.3 "
Curb
2,445 Lbs.
Gross weight
2,862 Lbs.
PERFORMANCE
Base engine size
2.0 Liters
Base engine type
I-4
Horsepower
155 Hp
Horsepower rpm
6,000
Torque
148 Lb-Ft.
Torque rpm
4,600
Drive type
Rear-Wheel
Turning radius
15.4 "
FUEL
Fuel tank capacity
11.9 Gal.
EPA mileage estimates
27 City / 34 Hwy
Today's Mazda MX-5 Miata

The re-engineered and redesigned fourth-generation Miata was a classic on arrival.
The 2017 redesign brings the Miata in line with some modern safety, efficiency, and tech expectations, all while preserving that delicate sweet spot that makes it different from anything else on the market.
Versus the prior (NC) generation, the current Miata is shorter and sits lower. Its styling follows Mazda's latest "Kodo" design language, evolved from the Mazda 6, Mazda CX-5, and Mazda 3, and made a little more pert. Inside, the Miata features low-slung seating, a prominent center console, big analog gauges, and a horizontal, shelf-like instrument panel. One notable concession to modernity is the available 7.0-inch standalone infotainment screen.
Under the hood is Mazda's 2.0-liter "SkyActiv" direct-injection inline-4, which runs a high 13:1 compression ratio. The engine's 155-horsepower and 148 pound-foot ratings aren't impressive on their own, but considering the car's light weight (as low as 2,331 pounds), it's plenty—provided you keep the engine revving. The electric-assist rack-and-pinion steering is very precise, and the front wishbone, rear multi-link suspension helps keep the driver feeling bonded with the car in every twist and turn.