Maruti Suzuki Alto 800 Price in India, Alto 800, Mileage | Motor Place

Maruti Suzuki Alto 800
₹2.66 – 3.98 Lakh**
Ex-Showroom Price in New Delhi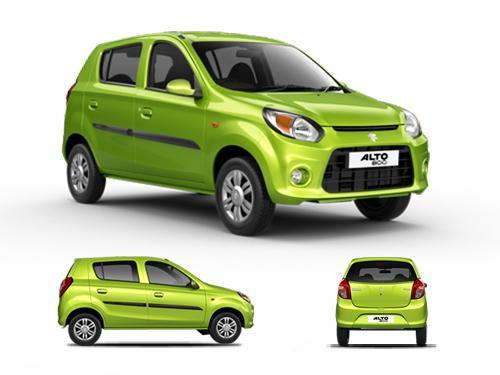 2016 Maruti Alto 800 New Model Mileage
| | |
| --- | --- |
| Petrol | 24.7kmpl |
| CNG | 33.44Km/KG |
The 2016 Maruti Alto 800 new model was launched in India in May 2016 at a starting price of Rs 2.49 lakh (ex-showroom, Delhi). The facelifted Maruti Alto 800 received some cosmetic and features upgrades along with two new colours. The hatchback's  new model continues to feature the old 796cc, 47bhp petrol and CNG powered engines paired to a 5-speed manual gearbox. Though, the gasoline motor has been tuned for achieving high thermal efficiency with low friction losses. As a result, the 2016 Alto 800 is claimed to be 9% more fuel efficient than the previous model.
Interior 360° Degree View
Wondering how the insides of the Maruti Suzuki Alto 800 look like? Get a tour of this car with the 360° degree view of the interior. Enjoy a lifelike view of the interior design of this car. Check out how the manufacturer has utilised the space and how spacious the legroom, as well as the headroom, are. Get a feel of the quality of the material used and see how the dashboard looks like. Check AC vents, infotainment system and other utility equipment on offer. See if the car offers steering-mounted controls. In a nutshell, this 360° degree interior view walks you through the inside of Maruti Suzuki Alto 800. Click anywhere on the image and drag it to the left and right to rotate. Zoom to enlarge the view!
2016 Maruti Alto 800 New Model Specifications
| | |
| --- | --- |
| Engine | 796cc F8D Petrol |
| Maximum Power | 47bhp at 6000rpm |
| Maximum Torque | 69Nm at 3500rpm |
The 2016 Maruti Alto 800 facelift is powered by the same 796cc petrol engine that used to power the discontinued version. This churns out a maximum power of 47pbhp against 69Nm of torque. The hatchback's facelifted model is claimed to be 9% more fuel efficient than the previous model. Mileage figures of the new Maruti Alto 800 stand at 24.77kmpl. This also makes it one of the most fuel-efficient cars in its segment.
The transmission on offer is a 5-speed manual gearbox. Similar to the regular petrol model, the hatchback's CNG powered engine delivers 47bhp of power and 69Nm of torque. This powertrain is now claimed to be 10% more fuel efficient than before. The new Alto 800 CNG delivers an impressive mileage of 33.44km/kg. The 2016 Maruti Alto 800 new model also gets new-generation 6.5-inch brake booster for better braking performance.